Q: I just got a pair of Chip and Pepper camouflage shorts. They're down to the knee, and I was planning on wearing them with a basic tank top and flip flops. Do you think this trend will last?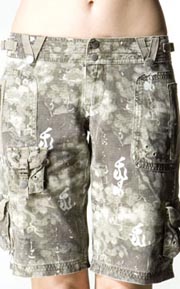 A:
Yes, this trend will last through the Fall. Military is a trend that doesn't ever seem to go out of style, and the color green has been gaining in popularity. Plus, knee-length city shorts are seasonally appropriate both for Summer and Fall.
We love the look of the green camouflage print with basic black for a more traditional military look. But if you're looking to move beyond basics, we recommend pairing the green camouflage with a bright color–such as an orange top.
As for accessories, one military-inspired item per outfit is enough, so skip the combat boots. Your idea to pair the shorts with flip flops is a great way to soften the look and make it more playful.
Have a great tip about what to wear with camouflage? Share it with us in the comments!

Pictured: Da-Nang Calligraphy Camo Ripstop Bermudas in Chinese Charcoal | $105 (sale) at Revolve Clothing.
Style question? We've got answers. E-mail us at tips at omiru dot com, or leave us a comment with your question.

4 comments July 31st, 2007