Q: Do you have any tips on new glasses frames? I want something that will last for a year or so. I work in a design firm, so something funky isn't out of the question, but I'd like something that that I can wear all the time.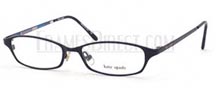 A: Most tips surrounding glasses frames center around balancing out your facial features to get closer to the "ideal" oval shaped face. In a nutshell, we advise those with round faces to look for more angular frames and those with more angular faces to seek rounder frames.
Since you work in a design firm, you're probably looking for a pair of frames that's not only functional but also a bit edgy. We'd recommend looking for:
(1) Angular frames, no matter what your face shape. We do, however, suggest taking your face shape into account and recommend a slightly less angular frame for those with heart or square face shapes.
(2) Thicker frames for a bolder, more confident look.
(3) Colored frames, if you dare. We like reddish brown for its wearability and inherent edginess.
Two brands to check out–Kate Spade for retro-chic frames and Gucci for bold, angular styles.

Pictured: Kate Spade Bailey Eyeglasses | $152 at FramesDirect.
Style question? We've got answers. E-mail us at tips at omiru dot com, or leave us a comment with your question.

3 comments July 3rd, 2007