July 4th, 2007
Q: How can I keep long tank tops and camisoles from riding up over my hips and rolling up at the bottom?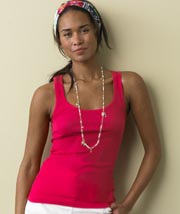 A: Long tops ride up and roll up when you move around when the fit is too tight. To avoid this problem, look for tank tops and camisoles that are cut a little bit looser–even if they're still form fitting. I've also found that tops with a built in "waistband" piece of fabric tend to give me less problems with shirt ride-up.
Have a great tip about how to stop tank top ride up? Share it with us in the comments!

Pictured: J Crew Solid Favorite Tank | $14.50 at J Crew.
Style question? We've got answers. E-mail us at tips at omiru dot com, or leave us a comment with your question.