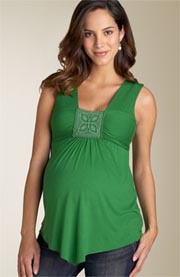 Asks Vickie, "I just found out I'm pregnant, and I'm excited about buying new clothes to fit my growing belly. Can you give me some ideas/inspiration? Also, I'm going to a wedding in September, and I will definitely have a sizable belly by then. What should I wear?"

Tell us, what do you think Vickie should wear during her pregnancy? Please leave your advice in the comments of this post.
The best answer (as chosen by Vickie) by Monday, July 9 gets a gift bag courtesy of BagTrends.com that contains a Hayden Harnett iPod case (and a 15% discount), a Baby Phat t-shirt, Goddess perfume from Kimora Lee Simmons, Bourjois multi shimmer loose eyeshadow, the NYC Venue Guide, a copy of The Buenos Aires Broken Hearts Club, a Jenny Yuen bag charm, a 50% discount at 69jewels.com, a 10% discount at Caravan, fall looks from Moe Handbags, info on Floral Icon Events, and a 20% discount at SHOP BagTrends.com.
Update (7/10): Congratulations, Nisha! Vickie found your advice the most helpful.
Pictured: Olian Maternity Crochet Square Top | $74 at Nordstrom.


5 comments July 5th, 2007