July 6th, 2007
Q: What can I wear with a grey halter dress to look classy and vintage-y?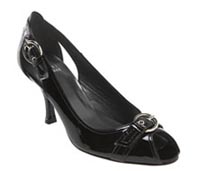 A: Dress up the grey halter dress with a square shaped jacket that recalls the 1960s and layered jewelry for an extra vintage-y feel. With a halter dress, y-shaped or pendant necklaces are especially flattering. Keep your hair simple–try wearing a headband to keep your long, wavy hair back.
As for shoes, stay with the vintage theme with a pair of peep-toe heels, such as the Stuart Weitzman Chatup Pumps pictured at left.
Finish off the look with a vintage (or vintage-inspired) handbag with great lines.

Pictured: Stuart Weitzman 'Chatup' Pump | $275 at Nordstrom.

Style question? We've got answers. E-mail us at tips at omiru dot com, or leave us a comment with your question.