Q: I am 5′5", 57 years old, short-waisted, small in bust, larger in hips. The biggest problem is the short waist. What do you recommend for flattering styles?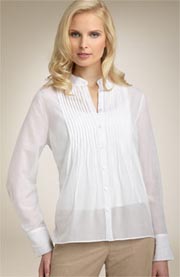 A:
To combat short waistedness, the idea is to visually lower your waistline. Here's five figure flattering tips for you:
(1) My favorite figure flatering trick is to place a narrow belt at the hipline to create the illusion of a lowered waistline.
(2) Belts that match the color of your top also help to visually move your waistline down.
(3) Wear long tops or styles with strong verticals on your torso. And to maximize your bustline, choose styles with volume in the chest area–such as ruffles or ruching.
(4) Low-waisted bottoms are gong to be figure flattering, as are skirts and dresses in fluid fabrics to hug your hips.
(5) Should you choose stiffer fabrics, look for styles without waistbands or those with a dropped waistline.
Have a great tip about how to flatter a short waist? Share it with us in the comments!

Pictured: Classiques Entier Release Shirt | $128 at Nordstrom.

Style question? We've got answers. E-mail us at tips at omiru dot com, or leave us a comment with your question.

2 comments July 10th, 2007