July 13th, 2007
Q: I need to find an outfit that I can wear on interviews to fashion public relations firms in New York City. Do you have any suggestions?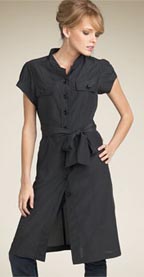 A: The perfect interview outfit for a fashion public relations firm is one part fashion-forward and one part professional. So while you want to show that you're in the know with up-to-the-moment trends, reign in the tendency to go all out.
The chicest outfits, in our humble opinion, mix classics and trends. Pair a classic high-waisted skirt with a three-quarter sleeved jacket with an oversized collar. Or spice up a neutral colored dress with a bright overcoat.
Some work-appropriate trends to consider: menswear as womenswear (think: tuxedo detailing, high-waisted trouser pants), geometric patterns, dresses, bright colors, ruffles, tie-front blouses, and trapeze shapes.
Don't forget about accessories–if chosen well, they can add extra polish to an outfit. Even though PR is a creative field, we recommend playing it safe with closed-toe shoes. Two on-trend styles to look at: ballet flats and round-toe pumps.
Lastly, take care in choosing a classic work bag. It bags come and go, but classics will stay with you season after season.
What's an outfit you can't go wrong in? A shirtdress with interesting detailing, a light overcoat or sweater, a luxurious bag, and a pair of low (closed-toe) heels.
Have a great tip about what to wear to a Fashion PR interview? Share it with us in the comments!

Pictured: Halogen Mandarin Collar Shirtdress | $64.90 (sale) at Nordstrom.
Style question? We've got answers. E-mail us at tips at omiru dot com, or leave us a comment with your question.