July 17th, 2007
Q: I'm a curvy size 12, and swimsuit shopping makes me more than a little nervous. I've seen a few retro-style sheath "swimdresses" out there à la Esther Williams. Are these in style, and if so, what are some of the best ones out there?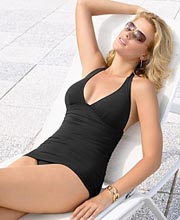 A:
More important than what's currently in style is what makes you feel and look good. If you like the look and feel of these retro-style sheath swimdresses–and they make you feel great (or at least, less self conscious), go for it!
Here's our three favorite swimdresses:
MICHAEL Michael Kors Adjustable Swimdress | $76.80 (sale) at Macy's
Side ruching makes this swimsuit adjustable AND it flatters your figure.
DKNY Draped Swimdress | $112 at Macy's
Again, the ruching at the sides of this swimsuit will help camouflage a tummy. (Pictured)
Miraclesuit Swimdress | $128-$138 at Nordstrom
Cross-body draping is slimming, and the patented Miratex fabric will help smooth and contour your body.
But yes, sheath swimdresses are in style this season.

Style question? We've got answers. E-mail us at tips at omiru dot com, or leave us a comment with your question.