Q: I work in film, as in a film crew. I work with mostly men, so I always stick to the 'safe': jeans, t-shirts, jackets, and sneakers. But there are times where I want to look more chic, without having them teasing me. Any ideas?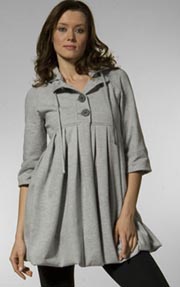 A: To look more chic without having the guys tease you, you can keep the same fashion formula but update the pieces.
Instead of wearing plain jeans, opt for a fitted style with an interesting, flattering rinse. Style Tip? You can't go wrong with a dark blue rinse–or a grey rinse for extra style points.
Update your t-shirt wardrobe with fitted styles with a variety of necklines. You don't have to stick with your basic crew or v-neck styles. Instead, try a scoop neckline - or even a boatneck style. Experiment with color as well–bright colors are back in style, so you can scoop up tees in a rainbow of shades this summer. If you're hesitant about color, three easy shades to start with are: (1) turquoise, (2) burnt orange, and (3) purple.
Jackets are all about the details, so choose a style that's a bit unconventional. Maybe it has a cool pocket detail or a D-ring at the neckline, maybe it's epaulets at the shoulder–or even a row of oversized buttons. The right jacket will up your style factor disproportionally–so don't hesitate to invest in a good jacket that you can keep season after season.
Sneakers can be chic! Try sport sneaker styles from brands like Puma or Adidas for a bit of flair for your feet. The best part is that they're as chic as they are comfortable–a must for long days on the set.

Pictured: Mike & Chris Bailey Bubble Hoodie | $308 (preorder) at Revolve Clothing.

Style question? We've got answers. E-mail us at tips at omiru dot com, or leave us a comment with your question.

Add comment July 18th, 2007