July 19th, 2007
Q: What would be a good place/store to buy a long blazer?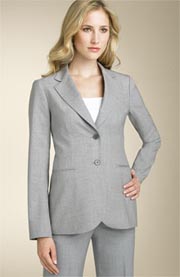 A: Now that cropped styles and shrunken blazers are in style, it's surprisingly difficult to find an old-school blazer that hits at the hip. I'd recommend trying vintage stores and thrift shops to get the right style–at a good price.
However, if you're looking for a brand-new blazer, your best bet is to look at designers who specialize in suits, such as Ralph Lauren or Theory. Check out department stores, which carry a larger selection of suits and blazers.
Have a great tip about where to find hip-length blazers? Share it with us in the comments!

Pictured: Theory "Rory" Jacket | $360 at Nordstrom.

Style question? We've got answers. E-mail us at tips at omiru dot com, or leave us a comment with your question.