Q: How do I wear a sleeveless trapeze top?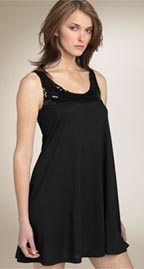 A: My favorite silhouette with trapeze tops is a Big-over-Small silhouette, which pairs the voluminous trapeze top with a fitted bottom. This fitted bottom can be a skirt, a pair of pants, or shorts.
What's great about this Big-over-Small silhouette is that it's both dramatic and figure flattering–the look is not only stunning, but it also hides a tummy.
Have a great tip about how to wear a sleeveless trapeze top? Share it with us in the comments!

Pictured: LaROK Sequin Swing Minidress | $168 at Nordstrom.

Style question? We've got answers. E-mail us at tips at omiru dot com, or leave us a comment with your question.

5 comments July 20th, 2007