Q: I have a navy polka dotted skirt with a semi-high waist and would like to know what types of shirts or blouses I can match with it. I would prefer something easy and simple.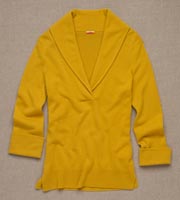 A: With a geometric print like the polka dotted skirt, you're going to want to pair it with a solid color. A white, flirty blouse will give you a French-inspired look. Look for blouses with ruffles or other special detailing. But you also might want to try a brightly colored sweater. Yellow, in particular, goes well with navy blue. Even though it's pricey, I love the look of this cashmere sweater in Bright Poppy at J Crew (pictured).
Have a great tip about what to wear with polka dots? Share it with us in the comments!

Pictured: Cashmere Beach Sweater | $168 at J Crew.

Style question? We've got answers. E-mail us at tips at omiru dot com, or leave us a comment with your question.

5 comments July 26th, 2007