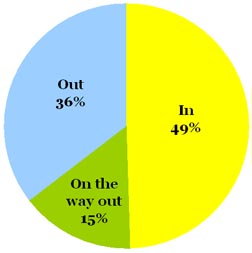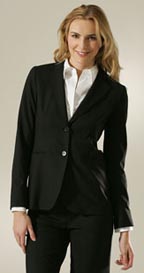 We asked:Are Long Hip Length Blazers In or Out?
You said: In…and Out. 49% of you are all for the long blazer, but 36% voted it Out and the remaining 15% voted it On the Way Out.
Omiru's take: Seems that the Long Hip-Length Blazer inspires strong opinions in either direction–and rightly so. For some, it's figure flattering, but for others, it's just the opposite. Style tip? If you're short-waisted (e.g. long legs, short torso), the Hip-Length Blazer will be flattering on your body, as it'll help visually balance out your top and bottom. However, if you're long-waisted (e.g. short legs, long torso), the long blazer isn't going to do you any favors. Skip it and try the cropped blazer instead.
Next Question: We've been out shopping for our new Fall wardrobes, and we're seeing Grey, Grey, and more Grey. But what do you think? Tell us, is The Color Grey In, or is it Out? Cast your vote on the sidebar!
Pictured: Theory Rory Blazer | $360 at Shopbop.

2 comments July 29th, 2007