Q: I am moving to Boston, MA in the fall to attend Harvard graduate school, but I have no idea how to handle the Boston weather. I have only ever known the muggy heat of the south. What are a few key pieces of clothing that I will need to survive the Boston climate while still looking stylish?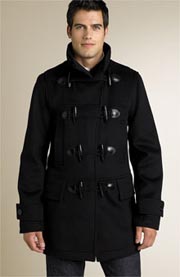 A: Boston's climate features challenging weather patterns such as wide temperature swings in a matter of days, and unseasonal snowfalls. Summers are sunny, hot and humid, and winters are bitterly cold, windy, wet and snowy. You're going to want to dress in layers to adjust to the changing weather conditions.
You're accustomed to the humid, muggy summers, but you're going to need to build your cold weather wardrobe. Here's four cold weather essentials to add to your closet:
3/4 or Full Length Coat: Invest in one good-quality cold weather coat each year. It's your first layer of protection against the chilly weather, and it's the item that will make your first fashion impression. Look for a well-insulated coat that will keep you warm, but also choose one with special detailing, such as toggle closures or military-style epaulets at the shoulder line.
Thermals: Layer thermal underwear under your clothes to help you retail your body heat.
Knit Hat: A large percentage of your body heat is lost through your head–so keep your head warm with a knit hat during the icy winters. Dark colors are safe, but you might want to add special flair to your outfit with a brightly colored hat.
Boots: Fashion starts at the foot, so invest in a pair of ankle-length (or above) boots that will keep your feet warm and dry.
Have a great tip about what to wear in Boston? Share it with us in the comments!

Pictured: Burberry Wool Duffle Coat | $1,395 (preorder) at Nordstrom.
Style question? We've got answers. E-mail us at tips at omiru dot com, or leave us a comment with your question.

7 comments August 1st, 2007