August 2nd, 2007
Q: I have black boots with multi colored polka dots. What do you suggest I wear with them? How can I make a funky outfit?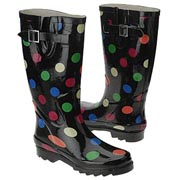 A:
To create an outfit around the black polka dotted boots, mix and match patterns on a simple black palette. The black color will provide a foundation on which to play. Build this black foundation with a solid colored miniskirt and a jet-black bomber jacket for style.
Combine your polka dotted boots with a striped top–keeping the two patterns at approximately the same size. Or, if you'd like to wear another polka dotted item, try a top with a larger polka dotted print.
Have a great tip about how to create a funky outfit around polka dots? Share it with us in the comments!

Pictured: Polka Dot Chooka Rain Boot | $59.99 at Famous Footwear.
Style question? We've got answers. E-mail us at tips at omiru dot com, or leave us a comment with your question.