Q: I am looking for a cute but professional day planner case with a zipper. The ones from Franklin Covey are functional but ugly. Any ideas of where I could find something like this?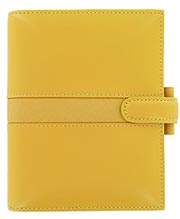 A: Day planners don't have to be boring–and Franklin Covey actually does carry some pretty spiffy styles. Look for bright colors for a stylish-yet-professional look:
Jodi Ultra Sleek Binder | $69.95+ at Franklin Covey
Can't get enough of the turquoise on this slim leather binder.
Arcadia Binder | $36.99+ at Franklin Covey
Sleek lines and a deep red color make this planner a standout.
Filofax Piazza Personal Organizer | $195 at Filofax
If you're willing to try an organizer without a zipper, take a look at this bright yellow Filofax style. (Pictured)
Have a great tip about where to find a stylish day planner? Share it with us in the comments!
Style question? We've got answers. E-mail us at tips at omiru dot com, or leave us a comment with your question.

1 comment August 3rd, 2007