August 7th, 2007
Q: I am studying abroad in Beijing where people dress up to go to college more so than in my college in Massachusetts what are some essentials that are easy to pack and will help me to blend in in both places without looking sloppy?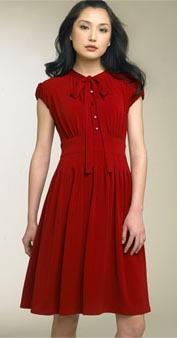 A:
Fashion in Beijing tends to be not only more formal than East Coast American fashion–but also more conservative. To blend in both Beijing and Massachusetts, build a foundation wardrobe that can be dressed up and dressed down. And choose pieces that aren't overly revealing. Though China is not as conservative as it once was, halter tops and shorts aren't going to fly here.
Here's five foundation pieces to jumpstart your wardrobe:
(1) Sleeved Button Down Shirt: Cotton short sleeved shirts work well for summer, and you can sport a tailored shirt with a long sleeve during the fall and winter.
(2) Sweater: Lightweight, short sleeved sweaters with a crew or boat neckline work well for spring and summmer. During the winter, you can wear heavier styles in wool.
(3) Shirtdress: Choose a style that extends at least almost down to your knee.
(4) Trousers: We'd recommend tailored styles and those with a medium to high rise.
(5) Skirt: Again, choose a knee length skirt or longer.
Though these styles are true basics, you don't have to be boring. Style is all about the details, so choose pieces with special detailing–things like oversized buttons, pleating, shirring can turn a simple style into something fabulous.
Have a great tip about what to wear in Beijing? Share it with us in the comments!

Pictured: Maggy London Crepe Jersey Shirtdress | $128 at Nordstrom.

Style question? We've got answers. E-mail us at tips at omiru dot com, or leave us a comment with your question.