Q: I'm an Asian college guy looking for cool clubbing clothes that I can also use as casual wear on campus. Have any suggestions?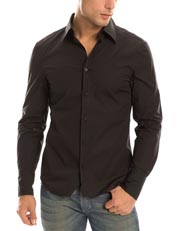 A: Choose clubbing clothes that reflect your personality, just as you would for the rest of your wardrobe. The standard men's clubbing uniform is a collared, button-down shirt with trousers or fancy jeans. If you want to blend in with the crowd, look for solid colors and darker hues. But if you're looking to stand out from the crowd, you can be more adventurous with bright colors and patterns.
For mall clothes, Armani Exchange tends to have the best clothes that double as clubwear and casualwear. Their styles are a bit more flashy than that of other stores and tend to be more fitted as well. Club Monaco also features subtly stylish clothing with a snug fit.
Where to start? The quintessential shirt that works from casualwear to clubwear is a dark colored slim fit shirt.
Have a great tip about what to wear to a club? Share it with us in the comments!

Pictured: Slim Fit Shirt | $78 at Armani Exchange.
Style question? We've got answers. E-mail us at tips at omiru dot com, or leave us a comment with your question.

7 comments August 8th, 2007