Q: I am attending two Summer Chic events. The first event will be held in a hangar at an airport, and the attendees are car collectors from around the world. I planned on wearing a white suit with gold piping, but I fear it may be overdone. Second event is an outside evening party with temps in the mid 80s.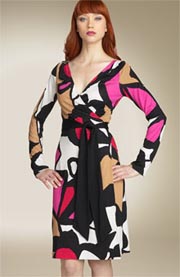 By Colleen Geary, fashion stylist and image consultant
A:
A white suit with gold piping runs the risk of having you look like an airline attendant, since the party is in an airport hangar. The hangar may also be hot, so we would suggest a pretty wrap dress perhaps with a Pucci feel. This printed wrap dress look would be modern, chic and appropriate for any age. Make sure you wear pretty heels and carry a sleek clutch so as not to take away from the focal point of the outfit, the dress.
For the second evening party, I would suggest one of the new long dresses–such as a maxi dress. So many are very pretty and they invoke light, airy days of summer. Perhaps have a little shrug with you too, in case it cools down. Where to find a dress and shrug? Banana Republic carries stylish long dresses and shrugs at reasonable prices.
Pictured: Diane von Furstenberg Abrigo Wrap Dress | $365 at Nordstrom.
Have a great tip about what to wear to a summer chic evening event?
Share it with us in the comments!
Style question? We've got answers. E-mail us at tips at omiru dot com, or leave us a comment with your question.

2 comments August 9th, 2007