Q: I just received a pair of knee-high black, leather motorcycle boots from Banana Republic. How do I wear these on a college campus without looking too pretentious? I love skinny jeans, dresses, and skirts.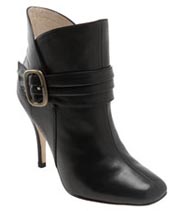 By Colleen Geary, fashion stylist and image consultant
A:
We have two ideas for you to work your motorcycle boots into your wardrobe:
(1) For a fun, adventurous look, wear your motorcycle boots with black tights, dark colored short shorts, and a white blouse. The look is somewhat man tailored, and a little Patti Smith goes to college.
(2) For a less flashy way to wear the boots, pair them with skinny jeans , a white t-shirt, and a grey wrap sweater. The wrap sweater softens the look without overly contrasting with the hard style of the boots.
Perhaps most importantly, have fun at college–and wear the boots with confidence!
Have a great tip about what to wear with motorcycle boots? Share it with us in the comments!

Pictured: Façade 'Cameron' Boot | $129.95 at Nordstrom.

Style question? We've got answers. E-mail us at tips at omiru dot com, or leave us a comment with your question.

1 comment August 14th, 2007