Q: I love all the cute knit dresses being shown for late summer/fall, but many are on the sheer side and I'm not sure what to wear underneath without showing too many lines or looking bulky. Can you recommend any designers that don't present this problem?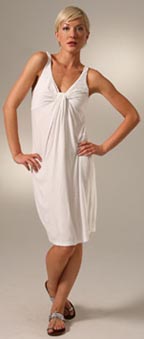 By Colleen Geary, fashion stylist and image consultant
A:
When you're wearing a knit dress, wearing the right undergarments is absolutely essential. Spanx makes wonderful body shapers in a nude color–great because they're not visible and they hide unseemly lines.
As for designers who make great knit dresses, try Abaete, James Perse, and C+C California. Abaete knits are lined to prevent sheerness, and James Perse and C+C California knits are made of buttery soft and heavy cotton. Not only do they drape beautifully, but they're also not sheer.
A discussion of knit dresses would not be complete without a note about fit. Clothes should skim the body and not be so tight that undergarments are bulging. Proper fit and proper undergarments are the "foundation" to looking great in any dress!
Have a great tip about how to wear a knit dress? Share it with us in the comments!

Pictured: James Perse Twisted Sheath Dress | $185 at Shopbop.

Style question? We've got answers. E-mail us at tips at omiru dot com, or leave us a comment with your question.

2 comments August 16th, 2007