Q: I really love the look of flats but I get shin splints wearing them! I usually slip in an insole, but can you direct me to any well-made flats with arch support?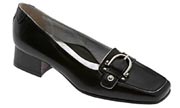 A:
For shoes that won't cause you foot problems, I turn to Taryn Rose. A former orthopedic surgeon, she creates shoes that are not only stylish but also good for the feet. But even Taryn Rose's collection of flats lacks in the arch support department. So–we'd recommend continuing use of your insole when you want to wear flats.
Should you be looking with shoes with a slight heel, though, Taryn Rose has a few styles to check out:
Taryn Rose Orbit Pump | $241.90 (sale) at Nordstrom (Pictured)
Taryn Rose Gaby Slide | $435 at Nordstrom
Taryn Rose Adore Wedge | $445 at Zappos
Taryn Rose Darcelle Wedge | $515 at Zappos
Have a great tip about where to find shoes with arch support? Share it with us in the comments!

Style question? We've got answers. E-mail us at tips at omiru dot com, or leave us a comment with your question.

Add comment August 21st, 2007