August 22nd, 2007
Q: What would suggest wearing a white blazer with to NOT give off the Miami Vice look? And, more generally, what other types of pants would you recommend with any blazer? The jeans and shirt and blazer look is so boring.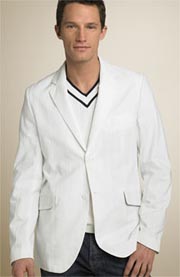 A:
The big white blazer with a pastel shirt screams Miami Vice (and the 1980s), but you don't have to dress like Don Johnson if you don a white blazer. Try the white blazer with a black shirt and dark-rinse blue jeans for an casually elegant nightwear look.
You can also try going preppy with the white blazer. Pair it with a colorful polo and shorts. Or replace the polo with a striped or plaid shirt for even more visual interest. You can get away with knee-length shorts in white or colored fabrics–or even seersucker. Finish off the outfit with a pair of boat shoes or docksiders. Very WASP.
More generally, you can wear blazers with almost any type of pants, if you're daring. It's less about what you wear than how you wear it. While most men keep to jeans or trouser pants in the same fabric for their blazers, you can expand your options to trouser pants in different patterns and textures (very sophisticated when done right), cargo pants, and even shorts.
Have a great tip about what to wear with a white blazer? Share it with us in the comments!

Pictured: Ben Sherman 'Paddle' Two Button Blazer | $169 at Nordstrom.

Style question? We've got answers. E-mail us at tips at omiru dot com, or leave us a comment with your question.