August 24th, 2007
Q: I have this light blue flowery summer dress that I want to wear for the fall and even possibly for the winter. How do I make it transition from summer to fall?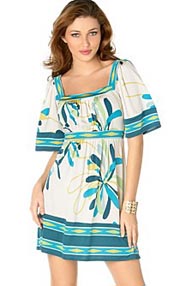 By Colleen Geary, fashion stylist and image consultant
A: To transition a summer floral dress into fall, I would recommend going for a "foho" look - folkloric and bohemian. Try pairing your blue flowery dress with:
(1) A cream colored cardigan with embroidered flowers on it to echo the flowers on the dress,
(2) Textured tights, perhaps in a blue which blends with the blue in the dress, and
(3) Fun little ankle boots.
As far as wearing a summer dress in the winter, I wouldn't do it - unless you live in a part of the country with mild weather. On the West coast, you could probably get away with layering the dress over pants and a long-sleeved shirt–and then topping it off with a cardigan or jacket. But on the East coast, it would just look wrong. If you're a East Coast gal, enjoy the fabrics and colors each season has to offer, and be happy to pull out your loved dress next Spring!
Have a great tip about how to transition summer clothes for fall? Share it with us in the comments!

Pictured: BCBG Square Neck Kimono Sleeved Dress | $158 at Macy's.

Style question? We've got answers. E-mail us at tips at omiru dot com, or leave us a comment with your question.