August 28th, 2007
Q: What colors/styles do you recommend for rain boots in general?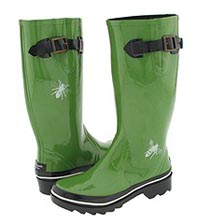 By Colleen Geary, fashion stylist and image consultant
A:
Rain boots should be fun and whimsical - cheery for a rainy day! My favorites are Kate Spade rain boots. She has an adorable pair called Riley in green with one white bug on each boot, which makes them fun but not overdone.
Pictured: Kate Spade Riley Rain Boots | $128.95 at Zappos
If you live in a place where you need a selection of rainboots, add to your boot collection with a pair of classic Wellington boots. Wellies are not only classic but also chic. Choose a pair in a bright color, such as yellow, to spruce up your rainy day outfits.
Hunter "Original" Boot | $98 at Nordstrom
Have a great tip about what to look for in a stylish rainboot? Share it with us in the comments!
Style question? We've got answers. E-mail us at tips at omiru dot com, or leave us a comment with your question.