Q: My boyfriend bought me, out of the blue, a brown plaid skirt. It was a nice gesture of him, so I decided to celebrate it by wearing the skirt on our next date. The problem is… I have no idea what to wear it with. I'm usually a jeans kind of girl, so I'm in a fix. What can I do to avoid looking like I just walked off the set of a Britney Spears video?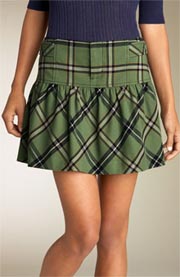 A:
If you're a jeans kind of girl, you're all about comfort, and since you're not predisposed to skirts, you probably are looking to dress in a way that's not overly feminine.
You can wear the brown plaid skirt in a way that reflects these preferences. Instead of pairing the brown plaid skirt with a frilly, feminine white top, pair it with a super casual (and comfortable) top–a tank top or a t-shirt. As for colors, brown goes well with light and bright colors–such as turquoise, orange, and shades of white. Finish off the t-shirt and skirt look with equally casual shoes–flats, sandals, or even sport sneakers.
Or, if that look is too casual, try a structured shirt with masculine influences, such as oversized pockets, epaulets, snaps, or D-rings.
Have a great tip about what to wear with a plaid skirt? Share it with us in the comments!

Pictured: Tildon Plaid Miniskirt | $38 at Nordstrom.

Style question? We've got answers. E-mail us at tips at omiru dot com, or leave us a comment with your question.

3 comments August 30th, 2007