Q: I will be studying abroad in Paris from September to December. What should I wear? Also, could you give me personal recommendation on shopping places (apparel, shoes) or attractions?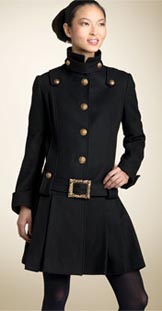 By Colleen Geary, fashion stylist and image consultant
A: The first thing you will need are comfortable yet stylish walking shoes, as you'll be walking across cobblestone streets. For uneven surfaces like these, flats are going to be your best bet. I recommend shoes from French Sole, as they have a wonderful selection of these easy-to-wear flats.
In Paris, the style was tailored and classic. Everyone was well groomed and well accessorized–scarves are key. Handbags, eyeglasses, shoes and boots were stylish and edgy. Think of classic shapes with interesting details–an oversized buckle, an unusually placed zipper.
As a student, you would need a foundation of tailored jeans, comfortable tees and a few pretty sweaters–choose grey or navy for versatility. Upon this foundation, add one-of-a-kind type pieces that will give your look personality. A dramatic tulip skirt, a jacket with an oversized bow, a distinctive chapeau. I would also pack a figure flattering basic little black dress (LBD), which you can dress up or down with a sexy stiletto.
As for stores to visit, don't miss Colette in the first arrondissement–very fashion forward and fun. Also check out Annick Goutal perfume shops, which are beautiful little jewel boxes. Galeries Lafayette should not be missed at Christmas–the lights at that store are spectacular.
Christmastime is tastefully beautiful in Paris, and as a bonus, the weather is rather temperate. A good wool jacket or coat in a slim silhouette with a beautiful scarf will keep you happy and stylish while ice skating at the Tour Eiffel. Bonne chance!
Have a great tip about what to wear in Paris? Share it with us in the comments!

Pictured: GUESS? 'Alexandria' Wool Blend Coat | $168 at Nordstrom.

Style question? We've got answers. E-mail us at tips at omiru dot com, or leave us a comment with your question.

3 comments August 17th, 2007