September 6th, 2007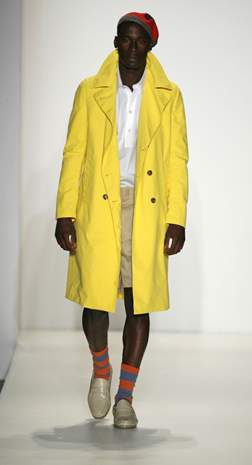 Photo Credit:
Dan Lecca for Mercedes Benz

Key Takeaways: Steven Cox and Daniel Silver of Duckie Brown are firm believers that menswear can be exciting and colorful. While their looks are fairly wearable, their flirtation with color and pattern show their sense of humor–and style. Spring 2008 merged the athletic with the preppy, with key trends including the just-above-the-knee short, 70s style pointed collars, the cotton trenchcoat, and an emphasis on formality with the three piece suit.
Color Palette: Experimenting with shine, Cox and Silver played with shiny satins–and what appears to be gold lamé. A neutral palette of creamy whites, tans, greys, and black was splashed with color: bright reds, oranges, and yellows. Loud, colorful floral prints also creeped their way into the collection.
Silhouettes: Key looks included the just-above-the-knee short, button-down shirts with 70s style exaggerated pointed collars, cotton trenchcoats, and the 3 piece suit (echoing Fall 2007's return to formality). Preppy looks included blazers with shorts and the three-piece suits. Athletic looks included a just-stepped-off-the-court wifebeater paired with shorts and a gauzy grey hooded sweater. Trousers were more accurately described as slacks, with their loose fit, while the shorts were cut with a slimmer fit. Most jackets were oversized and sack shaped, but Duckie Brown featured a couple of slim-cut styles: a shrunken blazer and a motocross jacket.

Accessories Report: Duckie Brown's signature accessory: colorful, striped socks. Cox and Silver also showed beanie hats, sneakers, and patent leather loafers.

What's Wearable: The just-above-the-knee short is a winner, as are the splashes of color from the accessories.
What's Not Wearable: Forget about the flowery pants. We're going to pretend we didn't just see that.
Previous Duckie Brown Fashion Week Coverage from Omiru:
Fall 2007 Fashion Week Runway Review: Duckie Brown
Spring 2007 Fashion Week Runway Review: Duckie Brown
Fall 2006 Fashion Week Runway Review: Duckie Brown
Spring 2006 Fashion Week Runway Review: Duckie Brown
Entry Filed under: Men,Runway Reviews,Runway Reviews,Trend