September 6th, 2007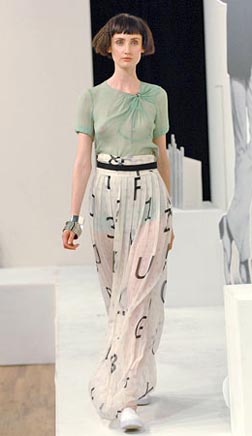 Photo Credit:
NY Magazine
Key Takeaways: Vena Cava's Spring 2008 collection vacillated between the 1930s and the 1970s, with classic depression-era silhouettes (think: drapey bias cuts and nipped in waists) interspersed with styles of the 70s (think: empire waistlines, the mini, and the maxi). Key trends included high-waisted pants and skirts, emphasis on the waistline, the minidress, the maxi dress, belts, ruffles, and the color purple.

Color Palette: Neutrals with shorts of yellow-green, seafoam, dusky rose, and shades of purple.
Silhouettes: Bottoms were high-waisted and were loosely cut for a voluminous look. Ruffled louses and tie-neck tops followed suit with the volume theme, while belts provided a counterpart to the volume and defined the waistline. Dresses largely fell under either the mini or maxi category, but 30s style knee-length dresses also made an appearance. Vena Cava's jackets were either cut cropped (often with elbow-length sleeves) or long and sleeveless.
Accessories Report: Belts played a key role in Vena Cava's collection–of note were the thin, drapey, multistranded belts. Tights replaced leggings for Spring.
What's Wearable: Favorite pieces include a seafoam green blouse with an asymmetrical gather at the neckline and an art deco style black column dress. The perfect casual chic look? A white, empire-waist minidress paired with an olive cropped closureless jacket.

What's Not Wearable: Maxi dresses aren't inherently unwearable, but they're tough to pull off without looking like you just walked out of the 70s. Same goes for the drapey palazzo-style pants.
Previous Vena Cava Fashion Week Coverage from Omiru:
Backstage Interview with Sophie Buhai and Lisa Mayock of Vena Cava
Spring 2007 Fashion Week Runway Review: Vena Cava

Entry Filed under: Runway Reviews,Runway Reviews,Trend,Women