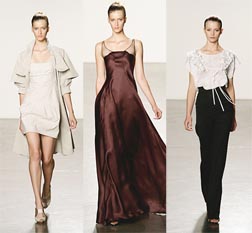 Photo Credit:
NY Magazine

Key Takeaways: Doo Ri Chung is all grown up. Moving beyond her signature jersey, she incorporated silk, lace, and tulle into a decidedly elegant spring showing. Doo Ri's Spring 2008 collection showcased her talent for tailoring both drapey dresses and clean, crisp coats. Key trends included: mini skirts and dresses, controlled volume, high-waisted pants, and an emphasis on the waistline.
Color Palette: Creams and tans, accented by stark black and white.
Silhouettes: Loose and drapey, and ruled by controlled volume. Skirts, often featuring a bubble hem, dominated the collection–both mini and knee-length. Pants and shorts were high waisted and cut with a generous leg. Sleeves were equally voluminous, with kimono and pouf styles. Of note was Doo Ri's looser emphasis on the waist than other designers for Spring 2008.

Accessories Report: Minimal jewelry adorned the models.
What's Wearable: Favorites include (1) a floor-length silk charmeuse gown with elegant, almost Narciso-circa-2003-like seaming on the torso, (2) a hip-length belted trenchcoat, and (3) high waisted pants–great for long-waisted women everywhere.
What's Not Wearable: Watch the "power" shoulderline on some of the jackets–there's enough room there for a shoulder pad party.
Previous Doo.Ri Fashion Week Coverage from Omiru:
Fall 2007 Fashion Week Runway Review: Doo Ri
Spring 2007 Fashion Week Runway Review: Doo Ri
Fall 2006 Fashion Week Runway Review: Doo Ri
Spring 2006 Fashion Week Runway Review: Doo Ri

2 comments September 9th, 2007