September 9th, 2007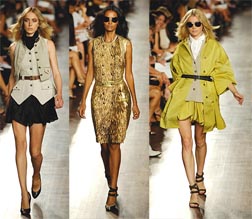 Photo Credit:
NY Magazine

Key Takeaways: For Lazaro Hernandez and Jack McCollough, Spring 2008 is all about the waist. Belts circled the natural waistlines of the primitive, yet refined tribal-inspired collection. Key looks included: vest-over-vest layering, oversized collars, short short skirts, the kimono sleeve, and the belt.
Color Palette: Upon a palette of blacks, whites, tans, and greys, the collection reached out to golden olive, a primal red, and metallics–gold leaf and a green tinged silver. Small geometric prints worked to create a tribal feel to the collection.
Silhouettes: The military-tinged Proenza Schouler silhouette centers on the waistline and the legs. Short skirts, high heels, and the belt placed at the natural waistline combine to create the illusion of two-mile-long legs. Key classifications included: the short short skirt, the vest, the poufy skirt, the kimono sleeve, the oversized collar, and the belt.
Accessories Report: Round oversized sunglasses, belts sitting at the nautral waist, and cavalry hats from milliner Albertus Swanepoel.
What's Wearable: The vest-over-vest layering is great for short-waisted women, as it visually elongates the torso. And the belt at the waistline works wonders for women with boyish figures, as it helps to create that waistline.
What's Not Wearable: Short short skirts are tough for those with less-than-perfect legs. And be careful with the gold leaf garments. They're beautiful, yes, but oh-so-hard to wear–for your figure and your pocketbook.
Previous Proenza Schouler Fashion Week Coverage from Omiru:
Fall 2007 Fashion Week Runway Review: Proenza Schouler
Spring 2007 Fashion Week Runway Review: Proenza Schouler
Fall 2006 Fashion Week Runway Review: Proenza Schouler
Spring 2006 Fashion Week Runway Review: Proenza Schouler
Entry Filed under: Runway Reviews,Runway Reviews,Trend,Women