September 9th, 2007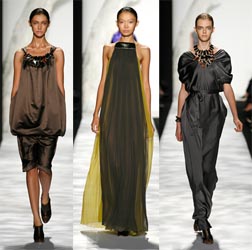 Photo Credit:
Dan Lecca for Mercedez Benz

Key Takeaways: Inspired by ancient Rome, Vera Wang's Spring 2008 collection was as notable for its draping and loose silhouette as it was for not neatly fitting into Spring 2008's bucket of trends. Key points from Vera's collection included draping, pleating, a dropped waistline, and artfully controlled volume.
Color Palette: Felt more like Fall than Spring, with blacks, browns, and olives accented by royal blue, dusky pink, and bronze.
Silhouettes: Silhouettes were cut loose, though the volume was often anchored at one point on the dress–be it the waistline or the shoulder. Draping and pleating, along with the dropped waistline, befit the ancient Roman theme of the collection. Classifications included tunics, bubble hemmed tops, column dresses, and drapey togas.

Accessories Report: Ornate, blocky tiled necklaces adorned the models' necks.
What's Wearable: The best pieces in the collection were, as expected, Vera's eveningwear. Of note was a beautifully draped chiffon floor-length gown, black in front, and a yellow-olive in back.
What's Not Wearable: Be careful with all-over metallics and satins–as they're unforgiving on the figure.
Previous Vera Wang Fashion Week Coverage from Omiru:
Spring 2007 Fashion Week Runway Review: Vera Wang
Fall 2006 Fashion Week Runway Review: Vera Wang
Spring 2006 Fashion Week Runway Review: Vera Wang

Entry Filed under: Runway Reviews,Runway Reviews,Trend,Women