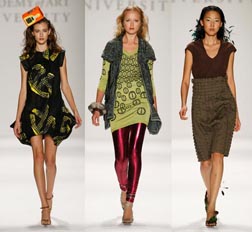 Photo Credit:
Dan Lecca for Mercedes Benz

By Colleen Geary, fashion stylist and image consultant
Academy of Art University graduate designers presented concise collections of clear vision–and execution. Who should you keep your eyes on? Omiru's top three picks for up-and-coming design talent:

Andrea Vance, MFA Textile and Fashion Design
Andrea opened the show with a collection of beautiful yellow and black dresses featuring blown-up images of the structure and silhouettes of Japanese bamboo basketry. Despite the loud patterns, each of the dresses exuded a whimsical sort of grace. As the patterns became more modern so too the cut of the dresses. A fun element was the use of neon yellow and orange radios as headpieces - whimsical and charming.
Jiyoon "Lydia" Yeom, MFA Knitwear Design
Inspired by nature's spirit, Jiyoon Yeom presented beautifully crafted knitwear in a wide range of colors and fabulous textures. Layering techniques on sleeves of one pattern over another added a richness and almost gypsy spirit to her collection. We took note of the collection's punkishly graceful lines, which lent a deep and unexpected sophistication to knitwear. Accesories included fabulous colorful and overstated knit bangle bracelets in hot pinks and oranges.
Haa Cheng Thai, MFA Fashion Design
Kirigami, the Japanese art of paper folding and cutting, was the influence on Haa Cheng Thai's striking laser-cut fabrics. Colors were rich and subdued pewter, browns and navy blues. Silhouettes were cut very close to the body, allowing the fabulous laser cut detail to steal the show. The stand out dress from this collection was an elegant high-waisted laser cut pewter skirt with a navy pleated top. We loved the proportion of the skirt to the top and found the peacock feather accent in the model's hair to be thoroughly charming.

Add comment September 10th, 2007