September 10th, 2007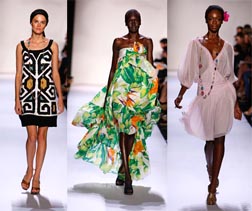 Photo Credit:
Dan Lecca for Mercedes Benz

Key Takeaways: Diane von Furstenberg's Spring 2008 collection was an island getaway, with breezy silhouettes, island and ethnic inspired prints, and bright colors.
Color Palette: Diane von Furstenberg went island-hopping with her color choices, adding reds, yellows, oranges, greens, and rich blues to a palette of neutrals.
Silhouettes: Dresses stole the show. Asymmetrical dresses, maxi dresses, empire waist dresses, tunic dresses, sheath dresses, t-shirt dresses, and Diane's signature wrap and shirtdresses. Waistlines ranged from near the hip (drop waist styles) to the natural waistline to below the bust (empire waist styles). Keeping on trend, Diane showed high-waisted wide leg pants, shirtdresses with cuffed sleeves, and maxi dresses. Of note were the matching jacket and skirt combinations–sure to be a hit on the retail floor.
Accessories Report: Scarves tied around the head, an off-center fedora, oversized square-shaped sunglasses, and long, jeweled necklaces.
What's Wearable: Figure flattery favorites included the high-waisted pants, the wrap styles, and the well-cut shirtdresses.
What's Not Wearable: Big prints on floor-length dresses can be overwhelming on small frames. Wear with caution.
Previous Diane von Furstenberg Fashion Week Coverage from Omiru:
Fall 2007 Fashion Week Runway Review: Diane von Furstenberg
Spring 2007 Fashion Week Runway Review: Diane von Furstenberg
Fall 2006 Fashion Week Runway Review: Diane von Furstenberg
Spring 2006 Fashion Week Runway Review: Diane von Furstenberg
Entry Filed under: Runway Reviews,Runway Reviews,Trend,Women