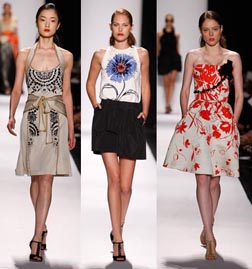 Photo Credit:
Dan Lecca for Mercedes Benz

Key Takeaways: Carolina Herrera declared that Spring 2008 is all about flowers, which she planted all over the dresses and skirts in her runway collection. The sweet collection featured key Spring 2008 trends: knee-length skirts, belts at the waist, voluminous skirts, tiered ruffles, and the elbow-length sleeve.
Color Palette: Black, white, and tan neutrals accented with bright red and a lilac tinged blue.
Silhouettes: Small over big: fitted tops over voluminous (and mostly knee-length) skirts. Herrera's floral motif was executed in prints as well as feathers, jet beads and sequins arranged in floral patterns. Key details included the bow (a Herrera favorite), tiered ruffles, knee-length skirts, elbow-length sleeves, and the belt.
Accessories Report: Red, red lips and giant bug-eyed sunglasses. And in line with Spring 2008 trends, Herrera emphasized the natural waistline with belts and bows tied at the waist.

What's Wearable: Fitted tops with voluminous skirts are a great way to balance out wide shoulders and narrow hips. Favorite looks included a sand colored embroidered slipdress with a wide bow tied at the waistline and a ribbon-tied crimson dress with tiered ruffles.
What's Not Wearable: Giant flowery shorts. Like the camera, they add 10 pounds. Instantly.
Previous Carolina Herrera Fashion Week Coverage from Omiru:
Fall 2007 Fashion Week Runway Review: Carolina Herrera
Spring 2007 Fashion Week Runway Review: Carolina Herrera
Fall 2006 Fashion Week Runway Review: Carolina Herrera
Spring 2006 Fashion Week Runway Review: Carolina Herrera
2 comments September 11th, 2007