September 12th, 2007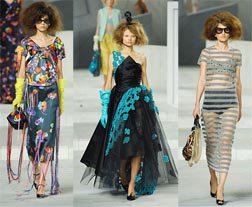 Photo Credit:
NY Magazine

Key Takeaways: Is ugly the new pretty? Marc Jacobs seems to think so. Jacobs' Spring 2008 collection, staged in reverse, featured ironically constructed half-finished garments composed into fully finished looks appropriate for all of the different high school cliques: the goth kids, the drama kids, the cheerleaders, the nerds, and even the prom queen. Despite the theatrics of the collection, Jacobs wove some key Spring 2008 trends into his collection: colorblocking, sequins, an emphasis on the waist, high-waisted bottoms, and the colors purple, pink, and orange.
Color Palette: Neutrals accompanied by pinks, purples, blues, yellows, and oranges.
Silhouettes: All over the place. Of note were the high-waisted pants and skirts, the short shorts, and the capes–which are coming back for Fall 2007.
Accessories Report: Nerd glasses, short necklaces, gloves, Attitude.
What's Wearable: Specific pieces were wearable: a heather grey high-waisted knit skirt, a cropped black jacket with pockets at the shoulder. But the looks were designed to stay on the runway.
What's Not Wearable: Let's just say that Marc Jacobs didn't design this collection for wearability. But for good measure, we'll say: ditch the witch hats.
Previous Marc Jacobs Fashion Week Coverage from Omiru:
Fall 2007 Fashion Week Runway Review: Marc Jacobs
Spring 2007 Fashion Week Runway Review: Marc by Marc Jacobs
Spring 2007 Fashion Week Runway Review: Marc Jacobs
Fall 2006 Fashion Week Runway Review: Marc by Marc Jacobs
Fall 2006 Fashion Week Runway Review: Marc Jacobs
Spring 2006 Fashion Week Runway Review: Marc by Marc Jacobs
Spring 2006 Fashion Week Runway Review: Marc Jacobs
Entry Filed under: Runway Reviews,Runway Reviews,Trend,Women