September 12th, 2007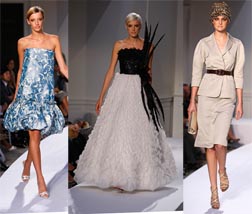 Photo Credit:
Dan Lecca for Mercedes Benz

Key Takeaways: Oscar de la Renta presented a refined collection of ladylike clothes for the ladies who lunch.

Color Palette: Creams and whites, with red, sky blue, and shades of green as primary accent colors.
Silhouettes: Much like Carolina Herrera, Oscar de la Renta showed a small-over-big silhouette. Both woven and knit tops were fitted, while bottoms left more room for volume. Pants were cut both high-waisted and wide-legged, while skirts featuring controlled volume tended to fall just above the knee line. Spring 2008 trends included: the hip length jacket, wide legged pants, high-waisted jeans, knee-length skirts, boxy jackets, the vest, and the tiered skirt. Details included ruffles, the v-strap neckline, bows, textured knits, and the bubble hem.
Accessories Report: The giant clutch as a handbag, sunglasses (extra points for colored frames), cuff bracelets, and belts at the natural waistline.
What's Wearable: Most everything in Oscar de la Renta's Spring collection are items that could have come out of a Park Avenue socialite's closet. Favorite looks included a double-breasted cap sleeved coat-dress in navy and the epitome of old-school glamour: a feather-adorned floor length black and white gown (pictured, middle).
What's Not Wearable: Pattern-on-pattern action for both the skirt and the jacket is a bit much, unless you're blessed with a model's figure.
Previous Oscar de la Renta Fashion Week Coverage from Omiru:
Fall 2007 Fashion Week Runway Review: Oscar de la Renta
Spring 2007 Fashion Week Runway Review: Oscar de la Renta
Fall 2006 Fashion Week Runway Review: Oscar de la Renta
Spring 2006 Fashion Week Runway Review: Oscar de la Renta
Entry Filed under: Runway Reviews,Runway Reviews,Trend,Women