September 13th, 2007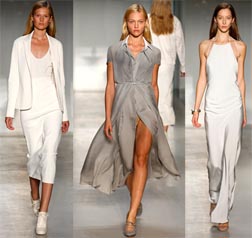 Photo Credit:
Dan Lecca for Mercedes Benz

Key Takeaways: A body-conscious collection of dresses and separates in solid colors. The neutral-colored collection was loosely fitted, with volume being cinched in at the waistline.
Color Palette: White dominated the collection, along with grey and beige. Splashes of spring green, light blue, and turquoise added visual interest.
Silhouettes: Of note was: (1) the loose fit of the garments, (2) the emphasis on the waistline, (3) the skirts that ended at mid-calf, and (4) the voluminous sleeves.
Accessories Report: Strappy gladiator/orthopedic style shoes.
What's Wearable: Most of the collection was wearable–favorite pieces included a grey, cap-sleeved dress with a high front slit and the blousy white overcoat with the kimono sleeves.
What's Not Wearable: Skirts that end at mid-calf are tough to wear without looking short.
Previous Calvin Klein Fashion Week Coverage from Omiru:
Fall 2007 Fashion Week Runway Review: Calvin Klein
Spring 2007 Fashion Week Runway Review: Calvin Klein
Fall 2006 Fashion Week Runway Review: Calvin Klein
Spring 2006 Fashion Week Runway Review: Calvin Klein
Entry Filed under: Runway Reviews,Runway Reviews,Trend,Women