September 20th, 2007
Q: I bought a pair of wonderful brown leather lace up Frye boots that hit 3-4 inches above the ankle. What skirt length should I wear?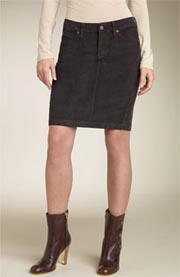 By Colleen Geary, fashion stylist and image consultant
A: Frye boots have an earthy, tough look to them, so you're going to need a skirt with a similarly tough feel. We like the look of corduroy with tough-looking boots, since the heaviness of the corduroy balances the visual weight of the boots.
Citizens of Humanity has a corduroy pencil skirt that hits an inch above the knee that would work well with your lace-up boots. The corduroy skirt and Frye boots complement each other–very casually sexy.
To complete the look and to create more visual interest, I would add a pair of textured tights. By keeping the color palette of the skirt and tights neutral, the textures would serve as the focal point of your look. Enjoy your boots!
Have a great tip about what to wear with Frye boots? Share it with us in the comments!

Pictured: Citizens of Humanity 'Novak' Corduroy Pencil Skirt | $52 at Nordstrom.

Style question? We've got answers. E-mail us at tips at omiru dot com, or leave us a comment with your question.