September 21st, 2007
Q: What are the must haves in clothing for Fall that one can buy on a budget?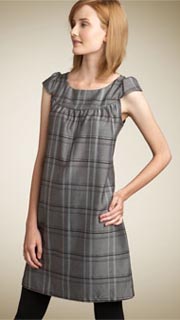 A: You're in luck–the top trends each season are readily available at all price points. You don't have to go designer to find great trendy pieces. Our favorite cheap chic stores are H&M, Forever 21, and Target.
The "must haves" for Fall are the clothes that are not only on-trend but also figure flattering. Here's our Top 5 Most Flattering Trends for Fall:
Sleeved Dresses
Style Tip: These dresses, which are great for covering heavy arms, work best in solid colors or small prints.

High Waisted Trousers
Style Tip: Balance your slouchy high-waisted trousers with a fitted top for a small-over-big silhouette.
Geometric Prints
Style Tip: Wear a single geometric print at a time–and spice up the outfit with something brightly colored that picks up on one of the colors in the print. Note that you don't have to go designer to find great looking geometric prints. We love H&M for designer-inspired prints at cheap chic prices.

Metallics
Style Tip: We love metallic shoes, which are versatile enough to pair with this season's brightly colored dresses. Which metal to choose? Try pairing warm colors, such as reds, oranges, and yellows, with gold. Pair cool colors, such as greens, blues, and purples, with silver.

Oversized Collars
Style Tip: To focus attention on your face, make this dramatic detail the focal point of your outfit—and keep the rest of your look simple.
Have a great tip about where to find must have clothing for Fall? Share it with us in the comments!

Pictured: Velvet Torch 'Menswear' Shift Dress | $52 at Nordstrom.

Style question? We've got answers. E-mail us at tips at omiru dot com, or leave us a comment with your question.