September 24th, 2007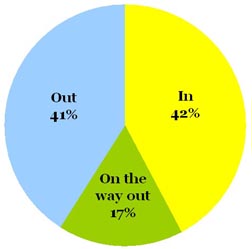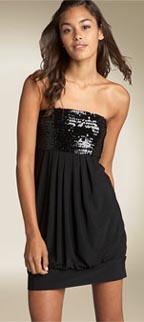 We asked: Are Sequins In or Out?
You said: In…and Out. While 42% of you voted sequins In, 41% voted them Out.
Omiru's take: Sequins–you either love em or you hate em. We think they're fine, so long as they're worn in moderation. Sequins are great for adding a bit of oomph to a cocktail dress or an evening gown. However, sequins seem to feel less appropriate during Fall than they would during Winter. Says Mimi, "I'm voting sequins in, but only until after the winter holidays."
Style tip? Shine has a tendency to make you look larger–so wear sequins thoughtfully. Wear sequins to show off your best features–or take advantage of their amplifying properties to give you some extra volume where you need it most. Small bustline? Wear sequins across your chest (pictured).
Next question: Like Sequins, Capes (and Capelets) were all over the runways at Fashion Week. But would you wear them? Tell us, are Capes In,
or are they Out? Cast your
vote on the sidebar!
Pictured: As U Wish Sequin Tube Dress | $54 at Nordstrom.

Entry Filed under: Trend,Trend Predictives,What's In and What's Out,Women