September 25th, 2007
Q: I bought a lambskin bomber front zip form-fitting leather jacket. It has been vegetable tanned and is various shades of brown. I am clueless as to how to pair clothes to create an outfit with this jacket.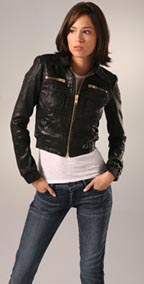 By Colleen Geary, fashion stylist and image consultant
A: Bomber jackets are versatile and can work with almost any look, from casual to chic. Our best advice is to make the jacket the focal point of whatever outfit you create. To get you started, here's three looks you can easily recreate with your bomber jacket:
Everyday Casual: The jacket would look fabulous with a dark wash boot cut jean and a little chocolate brown boot.
Cozy Chic: Wearing the brown bomber jacket with a camel colored sweater dress is perfect for the autumn weather.
Fashion Forward: Pair the jacket with a crisp white blouse and a pair of black cigarette pants.
Pictured: GoldSign Astor Leather Bomber Jacket | $850 at Shopbop.
Have a great tip about what to wear with a bomber jacket?
Share it with us in the comments!
Style question? We've got answers. E-mail us at tips at omiru dot com, or leave us a comment with your question.