September 26th, 2007
Q: My sister got me a great brown sports jacket, but when I wear it with a white collared shirt and blue jeans, it makes me look like a professor instead of a college student. What can I wear it with the jacket to better suit my age?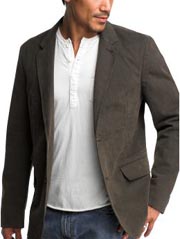 By Colleen Geary, fashion stylist and image consultant
A: How sweet of your sister to buy you such a useful wardrobe staple!
To make the sports jacket more age appropriate, pair it with a casual top. The graphic tee plus sports jacket is one of the oldest looks in the book, but there's a reason why it's a classic. For a look that's a little more "street," you can wear a hoodie with the sports jacket and tee. To kick the style quotient up a notch, pair it with a deep-buttoned henley or a light weight v-neck sweater.
What colors to wear with brown? Cream, robin's egg blue, shades of green, and even orange all pair well with brown.
Enjoy your blazer, and do wear it as you take your sister out to dinner when you're back at home.
Pictured: Herringbone Blazer | $88 at Gap.
Have a great tip about how to wear a sports jacket without looking old?
Share it with us in the comments!
Style question? We've got answers. E-mail us at tips at omiru dot com, or leave us a comment with your question.