Q: Can a man wear a simple black suit with formal shirt and bow to black tie event. I have a great well fitting black suit and it pains me to pay for a generic, well worn hired tuxedo. Does the button style matter? I have black plastic buttons, where most tuxedos have covered buttons.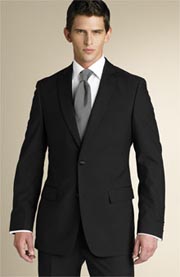 A: It's better to wear your well-fitted black suit than a rented tuxedo that doesn't fit. If you're looking to make a good impression, fit is of surpreme importance–an ill fitting suit or tuxedo looks obviously rented.
A note on color: Many men call charcoal and dark charcoal suits "black," and it simply is not. Put your dark charcoal suit next to a black suit and you will see the difference.

Ideally, you would have your own well fitted and tailored dinner jacket (which, combined with matching pants, comprises a tuxedo), but as the Stones said, you can't always get what you want. On the bright side, designers are making suits that aren't that much different than tuxedos anyways. Of course, with the suit, you will be missing the stripes on the sides of your pants and the satin on your lapels.

I would strongly advise wearing a shirt with a placket to cover the buttons, especially since you are wearing a bow tie. If gives you a dressier feel, which you need especially because you're wearing a suit and not a tux. If you can't, you can't, but black tie and white tie events have rules that should be followed.

Lastly, your bow tie should be black silk. Gloves are optional, but I would advise against them here because you're wearing a suit.

Pictured: John Varvatos Star USA Tuxedo | $995 at Nordstrom.
Have a great tip about what to wear to a black tie event?
Share it with us in the comments!
Style question? We've got answers. E-mail us at tips at omiru dot com, or leave us a comment with your question.

4 comments October 31st, 2007