October 1st, 2007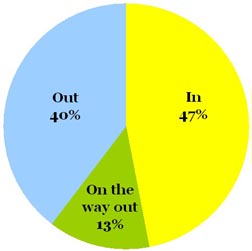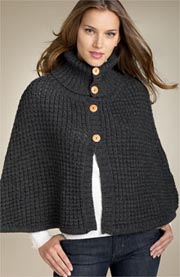 We asked: Is The Cape In or Out?
You said: In, with 47% of the vote–as opposed to Out's 40%.
Omiru's take: Like we saw with sequins, you either love capes and capelets–or you hate them. We see them as a nice sweater or light jacket alternative, and they're a chic way to dress up a casual outfit.
Style tip? Because capes and capelets tend to be voluminous, they require careful consideration for figure flattery. If you're petite, choose a smaller, less voluminous style. As for texture, look for a smaller knit weave as well. If you're taller, on the other hand, you can afford to go larger, both in texture and in size.
Next question: Chunky knits are not only seasonally appropriate but also popular, according to the Fall 2007 runways. But their volume, as the name implies, can make these chunky knits less than figure flattering. But what do you think? Tell us, are Chunky Knits In,
or are they Out? Cast your
vote on the sidebar!
Pictured: Echo Buttoned Chunky Capelet | $98 at Nordstrom.

Entry Filed under: Trend,Trend Predictives,What's In and What's Out,Women