Q: I was impressed with the way Eva Greens character in "The Dreamers" dressed–that kind of "Paris in the 60s" style. What would you recommend as basics so I can wear that style while not looking like I sprung out of an Austin Powers film?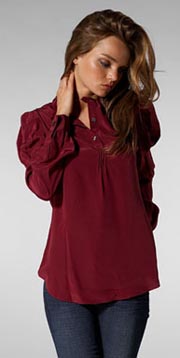 By Colleen Geary, fashion stylist and image consultant
A: Eva Green's character in The Dreamers, Isabelle, is the siren, and her wardrobe embraces her femininity and sexuality. Her clothes never overwhelmed her–she did not choose graphic prints or the angular, mod cuts of the sixties.
As an aside, the French designers of the sixties, such as Courreges and Saint Laurent, came from the formal tradition of Balenciaga, with rich heavy fabric, superb tailoring and sculptural shapes. London, on the other hand, had the wilder and more youthful Mary Quant, Twiggy, and "Austin Powers" looks.
Bringing it back to Isabelle, jewel tones dominated her wardrobe, which encompassed a dark green velvet dress, a rich red minidress, sheer floral blouses, and subtle printed dresses. Isabelle had the classic Frenchwoman's wardrobe, which, in our humble opinion, would be wise to emulate as it stands the test of time. Here's our top ten picks to jumpstart the creation of the classic Frenchwoman's wardrobe:
1. Classic trench
2. Floral blouse,
3. Silk blouse,
4. Loose minidress,
5. Sultry silk dress,
6. Elegant red velvet bag,
7. Beret,
8. Dark tights,
9. Leather boots, and
10. Black opera length gloves.
Pictured: NAVE Pin Tuck Collar Blouse in Bordeaux | $244 at Revolve Clothing.
Have a great tip about other foundation pieces for the chic, classic Frenchwoman?
Share it with us in the comments!
Style question? We've got answers. E-mail us at tips at omiru dot com, or leave us a comment with your question.

4 comments October 2nd, 2007