Q: I'm 5′5", a fairly athletic size 2, and a 34D with a short torso. I'm fine in suits, layers and button up shirts, but I fear tunics because with my boobs, someone may either think I'm pregnant, or with my height, that I'm wearing a MuMu! Given my height and general size, what would be the best style of top for me?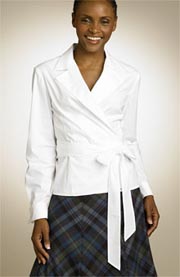 A: No, you're not being paranoid about tunics. Loose-fitting tunics have the tendency to make you look like you have no shape to your body. Plus, given your generous bust, they'll make you look much larger than you actually are.
The best style of top for you this season would be a long, structured top that extends well past your waistline. Structured tops help to define your figure (and can help de-emphasize your bustline), and since you're short-waisted, longer tops will help visually balance out your top and bottom halves. In particular, I like woven wrap tops for you, as they'll show off your figure to your best advantage.
Have a great tip about what tops to wear to flatter a large bust? Share it with us in the comments!

Pictured: Jones New York Signature Stretch Wrap Shirt | $64 at Nordstrom.

Style question? We've got answers. E-mail us at tips at omiru dot com, or leave us a comment with your question.

6 comments October 3rd, 2007