October 4th, 2007
Q: I just bought a great pair of grey boots that go up to my knees. They are about 3 inches high with a pointed toe and three military inspired studs on each boot. With what do I wear them?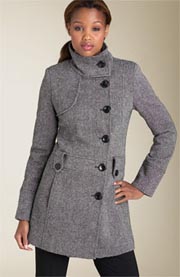 By Colleen Geary, fashion stylist and image consultant
A:
You're very on-trend with the grey military boots–both military-inspired styles and the color grey are key trends for Fall. We're especially happy about this season's celebration of the color grey, since grey is a great color to play with tonally. Pair your military boots with a grey coat and a grey scarf and let the variations of hue (and texture) pull your outfit together.
But don't forget to add a splash of color to your look–adding a fire engine red handbag or a bright yellow blouse will add a dash of drama to your outfit.

Pictured: GUESS? Donegal Tweed Walking Coat | $168 at Nordstrom.
Have a great tip about what to wear with grey military boots?
Share it with us in the comments!
Style question? We've got answers. E-mail us at tips at omiru dot com, or leave us a comment with your question.