October 8th, 2007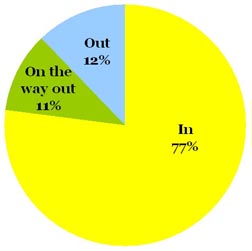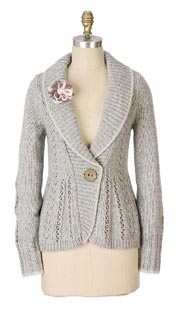 We asked: Are Chunky Knits In or Out?
You said: In, hands down, with 77% of the vote.
Omiru's take: Last year was all about thin, drapey knits–great for early Fall, but not so wonderful for Winter. But with this season's emphasis on textured, chunky knits, we can stay warm all Winter.
Style tip? Chunky knits are a great way to add texture to a daytime outfit–but they also add bulk. If you're curvy, you'd be better off wearing finer knits as sweaters–but you can jump on the chunky knit bandwagon with a chunky knit scarf or cap.
Next question: The color Orange shone all over the Spring 2008 runways of Fashion Week. But
what do you think? Tell us, is Orange In,
or is it Out? Cast your
vote on the sidebar!
Pictured: Helena Cardigan Sweater | $128 at Anthropologie.

Entry Filed under: Men,Trend,Trend Predictives,What's In and What's Out,Women