Q: What kind of pants can I wear with rainboots? I think they look cute with skirts, but I don't do skirts.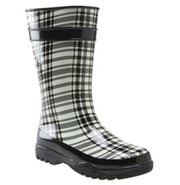 By Colleen Geary, fashion stylist and image consultant
A: Rain boots are fun and playful, with bright colors and bold patterns. Should you choose a patterned boot, be aware of potentially clashing patterns between the boots and pants. Rule of thumb with patterns? If the patterns are the same (e.g. stripes with stripes), vary the size of the pattern. But if the patterns are different (e.g. checks with dots), tie the two patterns together by keeping the size of the pattern the same.
Beyond that rule of thumb, any pair of casual pants can work. Rain boots are, by nature, casual shoes–so pair them with pants that evoke the same casual feel. Have fun with your combinations–try a striped pant with a floral boot for an unexpected splash of style. Or wear bright yellow rain boots with a periwinkle blue trench.
Oh, and don't forget an umbrella to complete your rainy day outfit!

Pictured: Sperry Top-Sider 'Pelican' Rain Boot | $59.95 at Nordstrom.
Have a great tip about what to wear with rain boots?
Share it with us in the comments!
Style question? We've got answers. E-mail us at tips at omiru dot com, or leave us a comment with your question.

4 comments October 9th, 2007